New year, new possibilities, but how about the past ?

Did you know that both Guillaume and Jérôme have been working in Norway, in Skrei's « Kingdom », the beautiful Lofoten Islands, where the Norwegian sea meets the majestical mountains ? Situated north from the polar circle, in a place where you can let your dreams carry you away, experience the magical fairytale sceneries and enjoy the northern lights dancing in the darkness of winter.
(If you want to experience it yourself, check out https://www.svinoya.no/en/ )
From Svinøya Rorbuer and Restaurant Børsen Spiseri in Svolvær, Norway to Restaurant Cave La Quincaillerie in Montendre, Charente Maritime – who would have thought ?!
We found some old « files » on internet, enjoy !
Article in English, Innovation Norway
Video in English/Dutch, with Dutch subtitles, Foodtube
Article in Norwegian, Godt.no VG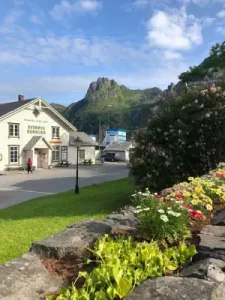 Thank you Svinøya Rorbuer for the wonderful photos!